powwow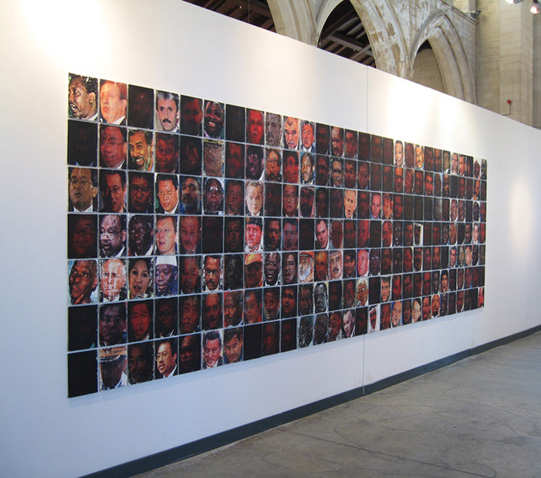 Conflict - 20-21 Visual Arts Centre, St John's Church, Church Square, Scunthorpe, North Lincolnshire, DN15 6TB. Tel: 01724 297070
10 Feb to 9 June 2007
Powwow online video launch
Powwow is now available to watch online at the Doc Alliance film archive. Click the image below to be transported to their site.
Richard Bartle – Pow-wow
Richard Bartle's large-scale work Pow-wow emerges in the threshold space between fact and fantasy. It is somewhere between the poles of political reality and Utopian desire. On the one hand, the work functions objectively as a visual map that documents the shifts and fluctuations within the landscape of global politics. On the other, it speaks of an individual's relentless attempt to organize and gather the world's leaders together in one place that they might begin to talk and reach reconciliation.
Since 2001, Bartle has traced and documented the rise and fall of world leaders, laboriously reproducing their images on a series of small canvases through a process which reflects and measures the almost daily changes and disruptions in the political arena. Each canvas catalogues the recent political history of a specific state or republic and serves to capture each new leader's ascent to power. Their subsequent political demise is then charted by erasing or burying them beneath the image of their successor. Political stasis is suggested in the more readable images. In others, the dense palimpsest of innumerable layers evokes a more volatile or unstable past.
The act of burial is an ambiguous ritual that is a marker of both protection and repression: it serves to erase or hide an object, individual or event from the past and locate it beyond the realm of the visible. Burial can be understood as a gesture of care, where the valuable or vulnerable are placed beyond the reach of harm. It might speak of a more willful concealment or deception at play, where certain facts or occurrences are deliberately hidden or corrupted so that they may never be brought to trial. Hidden within the cloudy recesses of both personal and political memory, located in unknown archives and in unnamed graves, or else concealed within coded and impenetrable pockets of the world wide web, the ghosts of unspoken and unspeakable histories still stir from under a fiction of normality. In different ways, both archaeology and psychology work to uncover these latent layers and historical fragments, drawing them to the surface that they may be forced to account for their role within the events of the present.
Pow-wow similarly attempts to document and make visible the latent power structures of global politics. In doing so, the political landscape is revealed as a mutable and ever changing topography, where it becomes impossible to ever achieve a fixed or coherent map of leadership. Paradoxically, the attempt to catalogue and record the political lineage of a place instead serves to bury or blur any possibility of recognition. Individuals perform their brief role on the world stage before disappearing into political obscurity, where they will no longer be held responsible for the trajectory of future actions or events.
Politically speaking then, the promise of responsibility and accountability serves the rhetoric and hyperbole of the speech podium but often falters or stalls in any practical sense. Bartle's insistent search for and record of changes in political power is perhaps a relentlessly futile gesture. The desire to bring together the sprawling mass of political leadership in order to propose the possibility of discussion, or "Pow-wow", collapses, as the terrain is never certain or stable and there are only ever a limited number of visible or identifiable individuals who could be petitioned and taken to trial. Bartle reveals a subtext of complex patterns and unexpected visual parallels, where there is an unlikely symmetry between the iconic presence of leaders in both dictatorships and popular democracies. It is a dark register of the transfer of power, both where the government is efficiently elected, or else anarchically absent and out of control.
Like all Utopian dreams, Bartle's Pow-wow is perhaps a figment of the imagination. Yet at the heart of all such delusional plans lies the irrepressible belief in the possibility of rewriting or re-conceptualizing reality as something "other" or as something different, a desire for a world beyond that of the present reality. Whilst the global discussion proposed by the work may never happen, the attempt to conjure it in a different form remains a marker of human hope and of necessary protest.
Emma Cocker, 2006
Pow-wow the movie
In 2009 Sheffield Contemporary Arts Forum commissioned a video work from the original assemblage Pow-wow, for inclusion in the 2009 Sheffield Pavilion project at the 11th Istanbul Biennial.
The Sheffield Pavilion
Screening Programme / DVD Edition
Presenting work by Sheffield-based artists
Screened and distributed at the 11th Istanbul Biennial 2009
Screenings: 10th – 13th September 12 – 6pm
Launch: Saturday 12th September 8pm onwards
Buyuk Hotel Londra, Mesrutiyet Caddesi 117, Beyoglu, Istanbul
Sheffield Contemporary Art Forum (SCAF) presents The Sheffield Pavilion 2009, a screening programme and limited edition DVD of specially commissioned and existing video works by eleven Sheffield-based artists.
The Sheffield Pavilion 2009 will be screened and distributed during the opening days of the 11th Istanbul Biennial at Buyuk Londra Hotel (www.londrahotel.net), presenting the work of Sheffield-based artists and promoting the contemporary art activity taking place in Sheffield, UK in an international context. It features an essay by artist / curator Ian White and is designed by renowned Sheffield-based design firm The Designers Republic. Following the launch and screening, The Sheffield Pavilion 2009 will tour to UK and international venues.
This is the second Sheffield Pavilion, the first having taken the form of a book presenting new work by ten Sheffield-based artists, which was launched at the Venice Biennale and distributed at Documenta and Munster during the 'grand tour' of coinciding art events in 2007.
The construct of the 'Pavilion' (a temporary structure used for leisure, entertainment or exhibition) has again been used to structure the project and the artists' contributions. A nomadic pavilion is easy to pack up and move on to further seek its audience and it can respond to the migratory movements of the art world with equal levels of critique and complicity.
Artists: Richard Bartle, Chloë Brown, Katie Davies, Hondartza Fraga, Steve Hawley, Esther Johnson, Tony Kemplen, Haroon Mirza, Paul Morrison, No Fixed Abode and Third Angel.
The works span from considerations of the possible future of a quarry for a notional property development (No Fixed Abode) to the peculiar phenomena of the English model village (Steve Hawley); from the contradictory status of music in the Islamic faith (Haroon Mirza) to the elaborate citizenship ceremonies instigated by British civic institutions (Katie Davies). They include a presentation of overlaid images of each world leader during George W Bush's tenure in the White House (where the dictatorships have static, clear images and heads of democratic states are overlaid like palimpsest) (Richard Bartle), an exploration of the architecture of a car park in relation to Coleridge's stately pleasure dome in Kubla Khan (Tony Kemplen) and a unique portrait of Sheffield's (in)famous Park Hill estate, created during an eclipse period between clearance and reinvention (Esther Johnson). Other works feature flawed footage of Saturn reedited (Hondartza Fraga), a description of the world from space if all you could see of it were the series of images carried on the Voyager satellites (Third Angel), an alien landscape of eternal midnight sunshine on the edge of the arctic circle (Chloë Brown) and a re-presentation of landscape through modified fragments of atmospheric imagery (Paul Morrison).
For further details or to request a copy of The Sheffield Pavilion 2009 by post email contact@artsheffield.org.
The Sheffield Pavilion 2009 was selected and produced by Sheffield Contemporary Art Forum – a not-for-profit company working to further the presence and awareness of contemporary art in Sheffield through joint programming, audience development and profile raising activities. The forum also runs the Art Sheffield festivals. The directors of the company are representatives of Bloc, Museums Sheffield, Sheffield Hallam University, Site Gallery, S1 Projects, Yorkshire ArtSpace Society and independent artists and practitioners. Sheffield Contemporary Art Forum is now working on its next city-wide contemporary art event, Art Sheffield 10, which will take place next year from 6 March – 1 May 2010, and on which we have been working with curators Annie Fletcher and Frederique Bergholtz.
Information about Sheffield Contemporary Art Forum and its activities can be found at www.artsheffield.org
Contact
Katy Woods
Sheffield Contemporary Art Forum
PO Box 3754, Sheffield, S1 9AH, UK
contact@artsheffield.org
+44 (0)114 281 2013
Pan-demonium
September 3rd - October 10th, 2009
Opening: Thursday, September 10th, 6-8pm
AC Institute [Direct Chapel]
547 W. 27th St, 5th Floor
New York, NY 10001
5th Floor - #519-529 & North Alcove
Gallery Hours:
Wed., Fri. & Sat.: 1-6pm, Thurs.: 1-8pm
Things extra and other (details and excesses coming from elsewhere) insert themselves into the accepted framework, the imposed order. The surface of this order is everywhere punched and torn open by ellipses, drifts and leaks of meaning: it is a sieve-order.
—Michel de Certeau, The Practice of Everyday Life, trans. S. Rendall
Pan-demonium resonates with the current global political, ecological and economic situation—one in which the hegemonic forces of order have been overwhelmed by a dynamic of chaos and disorder, turning the world 'upside-down'. Maybe Pan-demonium offers a metaphor for a critique of global capitalism and its 'devils'—its pan-demons—in all their guises (pan-demics included?). Or perhaps it conjures up collective creative forces for political challenge and the re-inscription of Pan in contemporary mythology?
AC Guest Curator, Bricolagekitchen, invited visual, sonic and written responses to some of these ideas and questions. Bricolage has various histories and contexts—from Claude Levi-Strauss on anthropology to Steven Connor on postmodern culture. John Cage's explorations of indeterminacy and the polarities of randomness/order have an obvious relevance here. Michel Serres' ideas on noise, clamour and cacophony and Michel de Certeau's leaky 'sieve order' also lurk behind the concept of the project. Serres writes about 'fuzzy logic', but 'mess' is increasingly being cited as a new paradigm in research methodology and is being transposed to other disciplines and creative practices.
Through an exploration of the multiple meanings, interpretations and understandings of Pan-demonium, this exhibition hopes to open up political as well as its aesthetic potentialities. It brings together an assembled cacophony of over 50 contemporary artistic responses and global voices gleaned via the web in a panorama of sound, text, visual and moving imagery, celebrating the affective power of disorder and noise. Pan-demonium explores the ideas of randomness and mess through the adoption of bricolage in a makeshift bricologue of interactive presentation and responses.
So, what does Pan-demonium mean to you?
About Guest Curator Bricolagekitchen:
Bricolagekitchen, aka Gillian Whiteley, is an interdisciplinary artist, curator and writer working across critical-creative borders, currently based at Loughborough University School of Art and Design, UK. Her wide-ranging creative/research interests have a focus on the use of trash in visual/material culture and improvisational and collaborative practices. She has researched, published and curated a number of projects linking art and bricolage, junk assemblage and the politics of the social, public and affective imagination. Exhibitions include: Radical Mayhem: Welfare State International and its Followers (Midpennine Gallery, Burnley, UK); related forthcoming publications include: Junk : Art and the Politics of Trash (IB Tauris Publishers), Scavenging from margins to mainstream? Artist as Bricoleur in the 21st Century (University of Paris Press) and the co-edited Telling Stories: Countering Narrative in Art,Theory and Film (Cambridge Scholars Press). The Pan-demonium project is part of her ongoing research into bricolage and improvisatory techniques as a paradigm for research and practice. For more information please see: www.bricolagekitchen.com.
This project has been supported by Loughborough University School of Art and Design.
Objet Image led by Fatos Ustek
13 October - 8 december
no.w.here
First Floor, 316-318 Bethnal Green Road
London
E2 OAG
UK
Telephone: +44 (0)207 7294494
Objet Image : Revisiting the interface
led by Fatos Ustek
The series on image as object will run over 9 weeks and 8 meetings and will be led by curator & critic Fatos Ustek. The seminar series will explore the shift from art in the age of mechanical production to art in the age of digital production, thus focusing on the methodology of image making the series will investigate our relationship to the image today.
Objet Image does not refer to the objectification of the image, conversely it recalls the image's position in contemporary society as almost like object. The knowledge that the history of photography and film provides us, constitutes the framework of what an image is; whereas today its wide-range of usage and consumption brings a diverse world of realms where its production is no longer defined, perceived, criticized, approached as it used to be. The comparison of the 21st century image production with that of the late 20th century aims to articulate the transformation that is taking place.
The seminar series will be dealing with the notion of the image, in the framework of its production by contemporary artists and filmmakers. The seminars focussing on the moving image per se will be structured around reading current theories of film, media, and communications as well as diving into the aesthetics of production and its methodologies of distributing the sensible. The workshop is structured around a discursive and reflective methodology hence it will acquire the active participation in discussing the conceptual and visual material presented.
The weekly sessions will include reading material which will be provided to the participants a week prior to and are supported by a website where participants will be able to access and to post connected events, additional reading lists, files where they will also find information for each session.
Copenhagen International Documentary Film Festival
04 - 14 Nov 2010
PH:DOX
TAGENSVEJ 85 F
DK 2200 COPENHAGEN N
tel. +45 3393 0734
NEW:VISION AWARD is the competition programme for filmic experiments on the crossroads between documentary and artistic reflection. Provocative and challenging, but also poetic and abstract.
The programme consists of works from both visual arts and film. From the short, poetic moment via the cinematic essay to formal experiments and philosophical genre excursions past the limits of reality. They are films that rather strive for the impossible than make do with the average and video works that critically investigate the status of images in our times.
The nominated works all insist on the documentary as a form of artistic expression, and share a formal and methodological curiosity, which is of paramount importance for the continued development of documentary film. The cinematic styles of the future are being created here, and there is enough food for both inspiration and critical thought in the widely diverse artistic expressions in this series.
NEW:VISION AWARD (5,000 euros) is kindly sponsored by the Danish Association of Film Directors and FAF the Danish association of Film and TV workers.
http://www.cphdox.dk/d/a1.lasso
Director: Richard Bartle
UK 2009, 6 min.
Eight years of global politics in six minutes
'Pow-wow' is an eight-year long project that began on the 20th January 2001, the inauguration date of President George W. Bush, and was completed on the the 20th January 2009, the date he left office. During this time, Richard Bartle has traced and documented the rise and fall of world leaders, laboriously reproducing their images on a series of small canvases through a process which reflects and measures the almost daily changes and disruptions in the political arena. Each canvas catalogues the recent political history of a specific state or republic and serves to capture each new leader''s ascent to power. Their subsequent political demise is then charted by erasing or burying them beneath the image of their successor. Political stasis is suggested in the more readable images. In others, the dense palimpsest of innumerable layers evokes a more volatile or unstable past. The images are presented with a soundtrack - the preamble to the United Nations declaration of human rights, read out simultaneously by UN interpreters in several languages - which imitates the layered and often incomprehensible nature of the images.